Legend In Our Midst: Q&A with Bakithi Kumalo
Paul Simon. Cyndi Lauper. Herbie Hancock. Chris Botti. Gloria Estefan. Mickey Hart: What do all of these people have in common? Not only are they are musical royalty, they sought out bassist Bakithi Kumalo to season and define prominent recordings and moments in each of their careers. He is a paramount part of Paul Simon's 1986 masterpiece, Graceland, and has continued for more than 20 years as Paul Simon's bassist.
We asked Bakithi to elaborate on his humble-yet-dedicated musical beginnings, defining projects, stylistic and philosophical approach, and his passion for music and U•BASS®. We find Bakithi to be as warm and deep as the instrument he's known for, and we're honored to share this interview with you:


You've collaborated with dozens of talented and well-known artists, released six of your own full-length albums, a few children's albums, and a couple of singles: What are the projects you've been part of that best define your playing and career?
Each and every project that I get involved in recording; it's all different [types] of music and projects. It started in South Africa when I worked on [Paul Simon's] Graceland (1986). Graceland really gave me the map to keep growing and learning how to get involved, practice, stay consistent and keep doing this.
All of the projects that I got involved with [in early years], I was still really growing and trying to figure things out. 
With Graceland, I'd been given a chance in the studio to record tracks for somebody. Graceland was the most free [I had been] to come up with the sound and my playing as well. [I got to] understand other things that were going on [in the studio]: People playing on the tracks - like guitars - working with the drummer and grooves. At the same time, [I was] trying to come up with the [bass] voice, to [create] a sound that was going to stand out and make sense. There are a lot of melodies that the bass is doing in African music, so this was a good start for me to [expand musically] with everything. 
I ended up playing on Herbie Hancock's jazz record, and I played on an Irish project with Eileen Ivers. People just called to hang out [with me] pretty much (laughs), because they knew [I was] learning - but then I'd still have a [compelling] sound that really [works] with everything.
What drew you toward the bass as your primary instrument?
I grew up in a musical family in South Africa. There was a lot of music - traditional music - that people walked around singing. Every weekend, they [would] dress up and sing traditional songs. As a kid growing up in South Africa, that was the beginning of my information about music. I really enjoyed it. I always looked forward to Sundays so I could be outside and watch these people singing. I picked it up.
My uncle played saxophone every weekend. Sometimes [he would] take me to his wedding shows [that he was] playing, and I was really learning. At that time I was about maybe 7 or 8 years old, very interested. But every year, it got better because I grew really serious, always keeping my eye on the instruments. By the age of 12, I was going to the townships, wherever the musicians were playing. I would go and watch them, and then maybe get a chance to play a little bit. [I was] messing up, but I was on the right track. By 13/14, I was playing the bass.

The first band that I joined, they had a guitar player and a bass player. The guitar player left the band, and then I joined to play guitar. [After] a couple of gigs with them, the bass player quit the band. When [they] quit, I moved to the bass, and that was an easy, easy transition.

My uncle's [band] practiced at my grandmother's house, so when they practiced, I would watch the bass player. He was playing the big, standup bass, and I'd ask him questions.
When I was about 16, I joined a band that left my town, Johannesburg, to go to Zululand. [The band] got stuck in Zululand for about 1 year, 6 months. We couldn't come home (due to civil and political conflict in South Africa), and we got stranded. At that time, [we] had to find something to keep going with music. That [was] the only thing [we] knew.

So I took advantage [of being stranded] and practiced, practiced, practiced. Still practicing mostly the bass. The bass is a lot of responsibility; you're carrying everybody and you have to do it in the way of not having fear, and accepting the challenges and responsibility. That's how I do it.
You started playing in a band at a very young age, and you're naturally a very intuitive and creative player! Did you at any point in your career undertake formal musical training, or did you remain self-taught and develop your own technique and musicianship with experience?
I never went to music school and studied music. I just had to figure it out by understanding - and listening - and putting it together. I grew up in the times where you never thought about [music] school, you just learned a song from the radio or something. You have to trust your ears - that's what I did - I just trusted my ears.
The only problem was not having an instrument. Learning music without an instrument was not easy. My parents were not there for me, to really support what I wanted to do until later on. Then my mother gave me the freedom to practice at home, once she understood that I wanted to be a musician. But no music school. I can read [music] now a little bit, because I am teaching myself. I never stop teaching myself.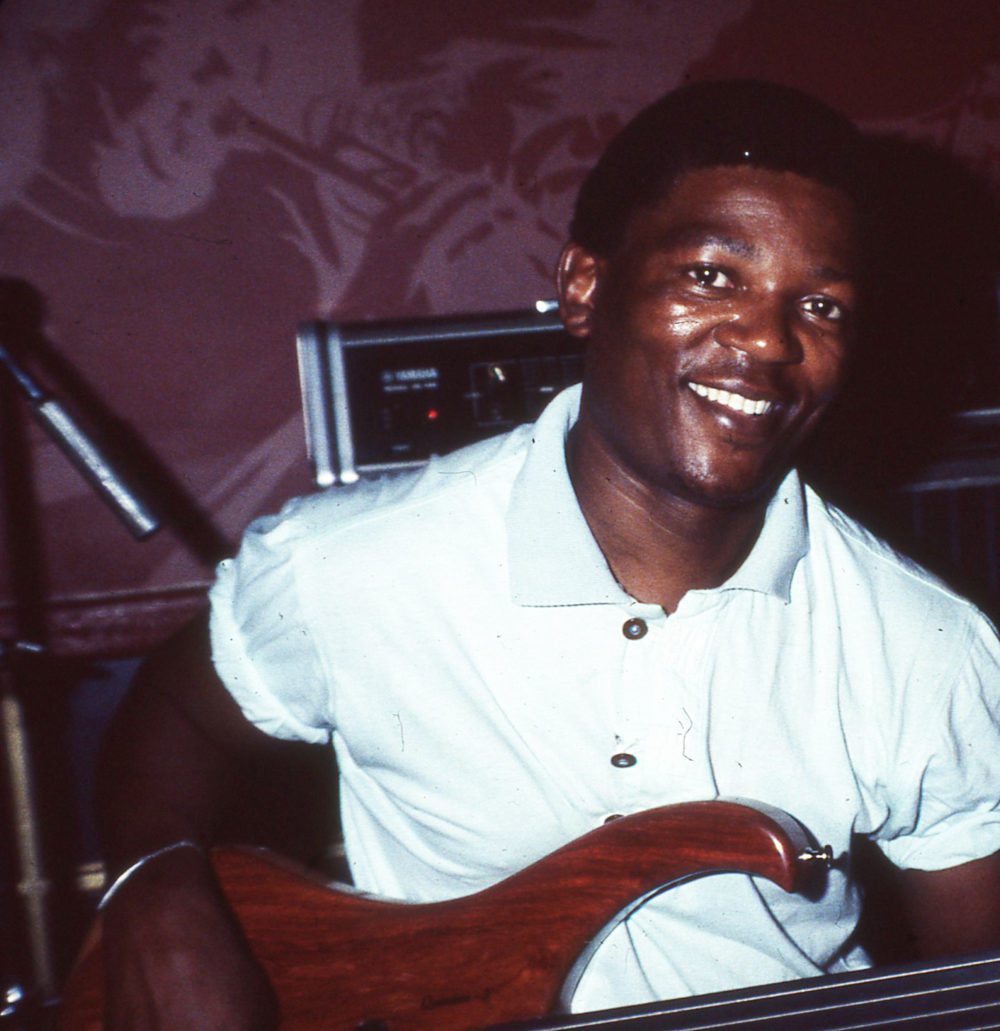 What advice do you have for someone just getting started on bass?
You just have to trust yourself. Don't have fear - just take your time - it's not complicated. Once you know how to count - you can do this - because it's all about counting. Play around with time signatures, play around with 4:4, which is a very simple basic one, two, three, four…one, two, three, four. Then try to play around with the timing. 
If you play the bass, singing what you play is going to [give] you better understanding. You understand when you're singing, so keep singing what you're playing. Always play with the timing, [because] you have to focus on the timing and then also focus on what you have to play. So, it's a lot of work. You [have to practice] to get that. 
Young players, take your time and make sure you get a good tone. Play simple in the beginning, get a tone, understand your instrument. Then once you understand your instrument, you're going to perform and keep practicing.
What is your favorite element of music: Writing, recording or performing?
One thing about music: I love it all. Whether it's recording, performing live, teaching. I love it all because it's all different, so you have to have a different approach to each and every [aspect]. 
When you're recording, it's more focused. You have a chance, because you can stop and fix the problem or you have some people you're recording with or for [telling] you "Okay", or "Change this part/change that part". You're open, so it's fun, and it's a great challenge. You get a chance to hear your instrument properly, because the sound is different from live. You can hear everything very clearly.
You can perform, create. In the studio, you have a chance to build things up. 
But playing live, you have to think [about] the sound and the thousands of people you have to please. [You have to] perform very well for them, to make sure your sound is coming through the right system for them. You and the [sound engineer] - you're connecting. The [sound engineer] is going to tell you something you have to change with your bass, or something to make it sound different, or the venue is difficult. There is a lot of stress with that; that's why you have to do a lot of soundchecks to get the right sound. It's very nerve-wracking (laughs). But hey, you have to do it, so that's different from the recording [process].
Writing music is very interesting. I don't just write; It has to be about me, and what I feel about everything. Sometimes I walk and I just sing stuff. Then I come back home and then come up with the bassline. I put it on tape, then build on it. Each and every day is different. Each and every day is a part of music. I might come up with something for that [specific] day, because the day has given me that.
It's all about what I see with my eyes and what I hear everyday, and then take that to make part of my music. Writing is very special. It has to come from your heart and [be] honest. It's a challenge, because you have to keep all that information and those thoughts to write about.  
So all of these [elements] - recording, performing, writing - they are different in a good way, and challenging in a way. I love all of them.
You started working with Kala more than decade ago, and have played the U•BASS® in various forms since then (including the release of a couple signature U•BASS® models!): What do you love most about U•BASS®?
I started with Kala [when] I was introduced to the U•BASS®. At that time, I didn't know anything about the U•BASS®, but there was that connection that I could not ignore. When I saw it the first time, I was very interested. I played [it], but I didn't know the instrument very well, so I was very bad! (laughs) I didn't really understand it, because it was so small, and it was a little bit uncomfortable for me the first time. 
I spent a lot of time playing it. I had to follow the instrument instead of trying to think like it's a regular bass. This is a different bass, and that's the beauty in it - the sound - it's unbelievable - so I didn't want to fight it, I had to learn from it. Once I got used to the instrument, I really fell in love with it and I play it more than any bass. So, the U•BASS® is brilliant and Kala came up with a great idea. I believe in U•BASS® and I believe in [taking care of] Kala. 
U•BASS® means a lot to me. [With my signature model], I thought it would look really cool with the pickguard. Also, the pickguard changes the tone a little bit. That way when I play muted stuff, I can get some really nice, deeper tone and [adjust it] for the style I play. The pickguard protects the wood too, because where you rest your thumb or you strum, the wood can get damaged a little bit. The pickguard [keeps] it safe and it sounds beautiful.
You recently started playing the ukulele as well - what do you enjoy about that instrument? Do you play any other instruments besides uke and bass?
Playing an ukulele is a whole different sound. It's great for me, because then I [am] able to teach kids the ukulele. 
When I record in the studio, I like the sound for certain parts of the song; the groove, or a muted, finger-picking kind of style. It's another amazing instrument because it's small. I'm still learning, still working on it.
Over the years, watching all the other musicians when I played with them, I learned something from each and every one: The drummer, the piano player, the guitar player, saxophone, you know - keyboard - everything. I learned, so I play all the instruments. I can play drums very well, I can play piano decently, and guitar. I play percussion and a little bit of saxophone. I play African instruments like kalimba, mbira. Pretty much anything I can find, anything that can make sound. I just love instruments and everything [about] music!
8) Aside from being a recording and performing artist, you have chosen to focus your time and experience working with kids. Can you tell us more about the Music Masters Mentor Program you founded?
Over the years, I used to play instruments for my two daughters, and I used to teach them the instruments. The more I taught them, the more they wanted to learn. Everything that [I was] playing, they wanted to learn. My kids really gave me a platform to practice how to teach and to be consistent. Now they've already finished college, they're teaching and they play amazing music! 
[It's the best blessing] to work with Music Mentors. [The kids] want to play, so you want to make sure that the two hours you're with them that you speed up things with them. You practice with them, you play, you show them that music is great and amazing. And then you teach them the counting.
[As a Music Mentor, I teach] the kids how I learned music; Just lose the fear, move forward, practice, learn, love. Start with love. Loving the instrument is going to help you to really move forward. When you love the instrument, you're going to spend a lot of time with it. Don't have fear when you play, because you're going to mess everything up. Just learn the songs and focus, keep your mind on there. And have fun. That's my message to these kids and they play amazingly. 
The Music Mentors [program] is really teaching all these kids. I have a musical director who plays the piano, who also helps the kids [learn]. I share the experience; I'm not a music teacher, but I can give you the experience. You spend a couple of hours with me, you're going to learn something! So that's what I do. 
It's fun [to] play music with a purpose. Sometimes what I do with these kids is, we practice all these songs and then come up with a show. I will talk to someone to give us a venue, so that the kids can perform… Maybe they raise money, for buying themselves books or [to] give away. There are other kids from around the world that need support. We can do something for them, like in South Africa: We do a concert with the kids [in the states], they raise funds and send it to the kids in South Africa or to another foundation. So playing music with the purpose, and the Mentorship, is a beautiful thing.
Bakithi currently spends time mentoring youth through his project, the Music Masters Mentor Program. He continues to write and record as a solo artist; In 2021, he released his sixth solo album "What You Hear Is What You See". He performs with Bakithi Kumalo's Graceland Experience: his All-Star tribute to Paul Simon's legendary album. In DEC of 2022, Bakithi joined Paul Simon and his band, alongside other top artists for the CBS Special "Homeward Bound: A Grammy Salute to the Songs of Paul Simon". Follow more on Bakithi here.
Bakithi Kumalo Signature Acoustic-Electric U•BASS® GIVEAWAY!
This giveaway closed on FEB 28, 2023. Winners have been selected and contacted by email.